I recently moved in to a new studio space. It's so exciting and also so scary. I have all this space to create in and it's awesome. It's also a big step in my business and that's the scary part. I just have to remember that all the magic happens outside of my comfort zone...
If you follow me on instagram you might have seen some sneak peeks of the new space. I will do a proper tour once I have it all set up the way I want it. It's so much fun to plan and get it all organized and pretty. Can't wait to show you once it's less messy. 
The main characters in this space are of course my sewing machines, my babies. I want to introduce them to you and talk a bit about each of them. And at the end I will let you know my future plans for sewing machines that I want to add to the family.
Let's start with the first machine I got. I bought this beauty in early 2015, when I had moved out from home and couldn't use my mom's machine anymore. By the way her machine is a Bernina 1008 and that's the machine I learned to sew on. I still love Berninas to this day and the 1008 is a great beginner machine! 
Husqvarna Automatic CL21A. This is an awesome machine. It's a true work horse. Probably produced in the 60's? Please correct me if I'm wrong and you sit on some vintage sewing machine knowledge - I would love to know more about this machine. I know a lot of people in Sweden had these machines in school when they learned to sew in the 70's for example. It's a machine that many people recognize, including my dad, which was fun. 
I love this machine because it's simple but very powerful. It sews the most beautiful straight seams and it purrs quietly as it works. It doesn't have a lot of fancy functions but it's great at its job and it's all metal which is a good thing. I had to replace the plug once (or rather ask my boyfriend to do it) when it started smoking (60's electricity, yay) but other than that it just WORKS, all the time. I take good care of it, oil it regularly and clean it from dust. My pride and joy :) 
Janome My Lock 644D. This is my overlocker/serger. I bought it a few years after my Husqvarna machine. I wanted to have more of a professional finish on my garments and I love to sew jersey with this machine as well. This is a really good overlocker/serger. Nothing fancy like air threading or anything like that. It just works well and I like to use it. I have a few basic colours on my overlocker threads; white, black, navy, grey, beige & red. I have never really needed other colours but if I do I might add them as time goes on. White works quite often because most jersey fabrics I use are printed on a white base. I use this machine to finish raw edges and to sew jersey. 
Singer coverstitch 14T970C. This is my latest addition to the family. It's a coverlock/coverstitch machine that can sew with 1, 2 or 3 needles. I use this for a professional and quick twin needle hem and for chain stitch (one needle stretchy seam). I bough this machine late 2019 to improve the quality of my jersey garments. I am not best friends with this machine yet but it's getting better. It feels a bit different than an overlocker/serger and it takes some getting used to. I also had some problems with the machine - it skipped stitches - but I changed the needles to new ones and that seems to have solved the problem. Almost. I need to try it some more and see if I can become best friends with it ;) 
This machine can also be used for activewear which I wan to try soon. 
This is what the twin needle hem looks like. Almost like and overlock seam on the wrong side and a twin-needle stitch on the right side of the fabric. 
Those are the three sewing machines I own and I really like them! I bought all of them second hand (great way to save on machine purchase) and they work great. I have never taken any of them to get serviced even though I probably should one day. I take great care of them so I think that's why they still work so well. I oil them, clean them from dust and change needles regularly - that seems to be all they really need!  
Future sewing machines... 
You might think three machines is enough... and I agree, I can manage... but a girl has dreams! I can do everything I need to on these machines but I'm always thinking of possibilities of improvement. One thing I miss in my collection is a nice button hole option. The Husqvarna can sew button holes of course (using zigzag) but it's very far from automatic and effortless. So at the top of my sewing machine wishlist for the future is a nice machine with an automatic button hole feature. If any of you have any recommendations - please let me know! 
And to finish this post off I want to say a few words about industrial sewing machines. These are the kinds of machines I used in fashion school and oh how I miss them. They are sturdy, super fast and super efficient. An industrial machine is the kind that is attached to a table. The kind of machines you will see in garment factories, sewing ateliers and fashion schools etc. Thread cutting straight seam machine, industrial overlocker and others. I want them all. This is not in the near future though - these machines are expensive. But if you're sewing for a living they are - if not essential - at least preferable to home sewing machines.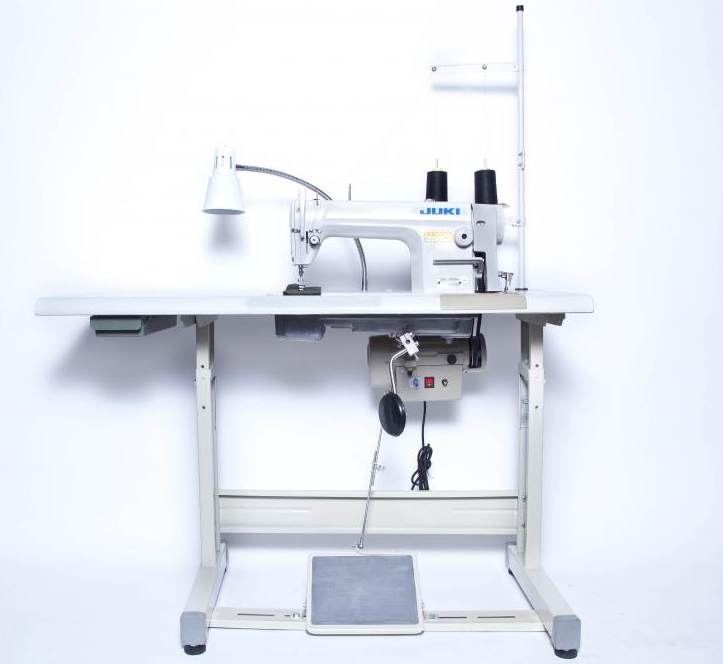 Image source: https://www.goldstartool.com/blog/top-industrial-sewing-machine-brands.htm 
These industrial machines take up a lot of space too but now that space is no longer an issue this dream feels a bit closer than before! 
What sewing machine(s) do you have? Are you satisfied with it or are you thinking about uplevelling? Which sewing machine is on your wishlist? Let me know in the comments below!
Have a wonderful day and I will talk to you soon. 
♥   ♥   ♥
Josefine
Ploen Patterns